What To Expect

NodeOne Field Technicians are trained, qualified, and insured to safely perform fixed wireless installations at your property.
On arrival, our Technicians will identify themselves, outline the installation process, and with your permission, will conduct a rooftop service assessment. Once the assessment is complete, they will advise your estimated service speed and where the antenna will need to be located on the roof. They will also confirm whether a pole is required and if any additional non-standard once-off charges may apply.
The Technician will then outline the installation process and answer any questions you may have. The installation will not proceed without your approval.
If it is not possible to obtain a signal strong enough to provide your required service speed, the Technician will outline the other service options available with NodeOne.
The installation itself will require the Technicians to return to your roof and access to your ceiling space. They may need to access other areas of your property depending on where your router is to be located.
For the Technician's safety, power will need to be briefly turned off whilst they are in your ceiling space. The Technician will let you know when the power must be turned off and when it can be safely turned on again.
Installations are generally performed using fixing mounts or fittings designed to utilise existing tech screws on your roof (if applicable) to minimise the need for new penetrations. Fixings and fittings will all be thoroughly silicon sealed for weather protection.
If you have purchased a wireless router from NodeOne, our Technician will set this up and explain how it operates. They will also confirm your service speed.
That's it, you're up and running with your new NodeOne fixed wireless service!
Before leaving our Technicians will ask you to complete a short confidential online survey about your installation experience. We constantly strive to improve our service and would greatly welcome your feedback.
Q&A

What if the weather is inclement on the day of my installation?

At NodeOne safety is a top priority, consequently, your appointment may need to be rescheduled should extreme weather conditions prevail on the day of the installation.

Where will my antenna be mounted?

The antenna will be mounted on your roof where there is a clear line of sight to our tower. Typical simple antenna and standard pole installation images are shown below.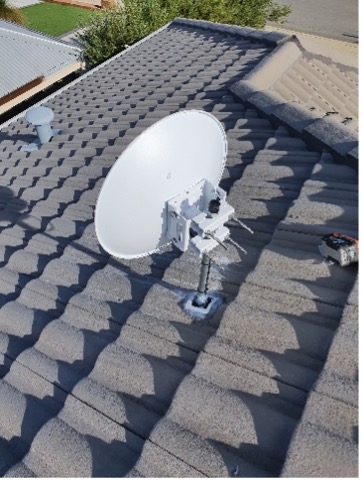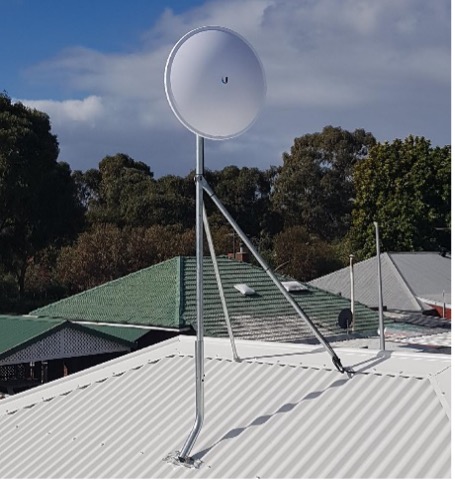 How long is the installation likely to take?

A standard installation will take 2 to 3 hours. For larger properties or where a pole is required, the installation may take a little longer.

Will I be offline during the installation?

Your current network connection will not be affected during the installation apart from a brief period when, for safety reasons, your power needs to be off whilst our Technicians are in your ceiling space.

Do I need to restrain my pets?

Our Technicians may need to repeatedly enter and leave your property during the installation, so to avoid the risk of your pets escaping or causing injury to themselves or our Technicians, we ask that they are restrained whilst our team are on site.

Is there anything else I need to be aware of?

It is important that someone who is authorised to make decisions about your installation is on-site whilst our team are there. They must be over the age of 18.
Prior to the installation, please consider where you would like your data point, as this will determine where your router will be located. This should be close to a power outlet in an area where most of your devices operate. We politely request that any furniture is moved away from the proposed data point location prior to the installation.
Our Installers take all reasonable precautions to weatherproof any necessary roof penetrations. In the unlikely event of water ingress, please contact our customer support team on 1300 166 331 so that we can rectify the situation as quickly as possible.